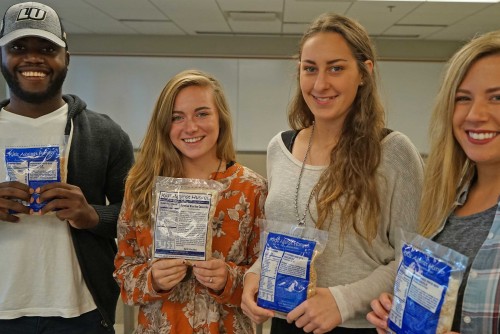 Kids Against Hunger, a humanitarian food-aid organization, reached its goal of 250,000 packaged meals during a massive packing effort on Oct. 14 and 15 in Lindenwood University's Evans Commons. The meals will go to local children in need as well as children in places such as Haiti.
Lindenwood nonprofit administration students marketed the effort as part of a group project in the Marketing for Nonprofit Organizations class. The students gained experience in marketing, including creating social media campaigns and a successful pitch to two local television stations to cover the event.
Dr. Julie Turner, associate professor of nonprofit administration and the instructor for the marketing course, said a lot of credit for the effort's success goes to the students' campaign.
"The student group used the space in Evans Commons and did the marketing extremely well," Turner said. "They did an amazing job, and they deserve the recognition."
Volunteers helped package the nutrient-rich dehydrated rice and soy mixtures for children in the St. Charles area and abroad. Food was provided for free to the volunteers by Pedestal Foods, Lindenwood's campus food provider.