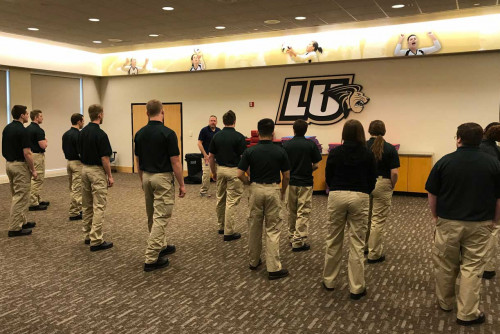 Lindenwood University paramedicine students recently participated in a nationally recognized self-defense course specifically designed for paramedics, a rarity for students in the field.
Lindenwood students were taught by Kip Tiesort, a nationally recognized expert and the creator of the two-day course, who traveled to the university to personally teach them.
Tiesort is a former paramedic instructor, police officer, and martial arts expert. Although Tiesort typically teaches very few courses himself anymore, he stated that he accepted Lindenwood's invitation because the university is one of very few programs that offer the nationally recognized course to students and he truly believes in the work of Lindenwood University.
The course emphasized not only self-defense but covers the importance of public perception, media presentation, and the aftermath of violent encounters.
"It reaffirmed to me that it is important that our students get this critical information before they go on clinical rotations," said Nick Miller, director of Lindenwood's paramedicine program.
The course is offered annually as a part of the PARA 21000 Paramedic Operations course.