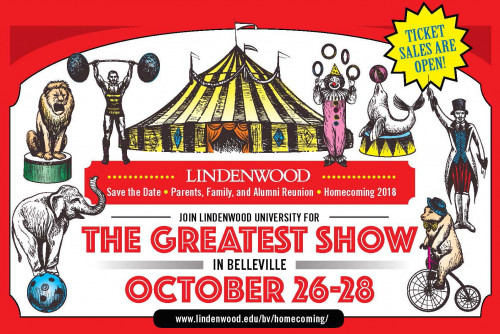 Lindenwood University-Belleville will celebrate Parents, Family, and Alumni Reunion Weekend throwing a three-day Homecoming celebration highlighted by The Greatest Show in Belleville Circus and the school's Third Annual Homecoming Parade.
The celebration is set for October 26-28, and in addition to the circus and parade, events for the weekend include a picnic and Lynx Fair, a variety of Lynx athletic competitions, and Alumni Athletics Day.
The Third Annual Homecoming Parade is slated for 11 a.m. on Saturday, Oct. 27, and will begin at 17th and Main St., finishing at 27th and Main St. in Belleville.
"Our parade participation gets bigger and better every year, and we're glad the community is joining us to establish this Lindenwood tradition in Belleville," said Jennifer Ferguson, director of alumni relations and special events.
Ticket bundles for parents and family of current students, along with alumni from the Belleville campus, are on sale now until Oct. 26, and can be purchased online.
The advanced pass is $20 and includes a 2018 Homecoming t-shirt, lunch at the Lynx Picnic, admission to the President's Farewell Brunch, athletic passes for all of the weekend's sporting competitions, a gift from Lindenwood University-Belleville, and a ticket to the Alumni Cook Out if you register to play in the alumni games.
Alumni who wish to register to play in the softball, soccer, or lacrosse alumni games can register online.
For more information, visit www.lindenwood.edu/bv/homecoming/ or contact Ferguson at jferguson@lindenwood.edu or (618) 239-6033.