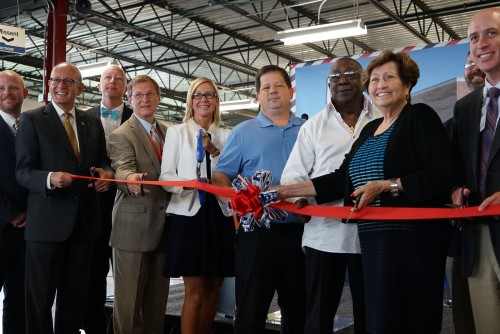 "This is a great day for everyone with the Postal Service," stated Charley Miller, Gateway District manager. "This building allows us to continue our pursuit of strong customer service while enhancing the work environment for our employees."
St. Joseph Hospital–St. Charles served as the general contractor for the 21,500-square-foot, $5.2 million facility, which is located on 3.83 acres donated by the university at West Clay Street and Boone Drive.
In exchange for serving as contractor, SSM Health will acquire the property of the former post office located at 112 S. Fifth St. Mike Bowers, president of St. Joseph Hospital–St. Charles, said the new complex serves a dual purpose that will benefit St. Charles residents for many years.
"While this exchange agreement is mutually beneficial to the U.S. Postal Service and to SSM Health, it's St. Charles residents who stand to benefit the most," Bowers said. "From a healthcare perspective, acquiring this property gives our hospital much needed room for growth as we continue to work toward improving access to safe, high-quality health care for our patients."
St. Charles Mayor Sally Faith said, "This ceremony is a testament to the strong partnership forged that ultimately resulted in a successfully completed development. I want to commend all the parties that worked together for many years to ensure we would reach this day."
A coalition of the U.S. Postal Service, SSM Health, Lindenwood University, the city of St. Charles, DESCO Development, and St. Charles County teamed together to bring the project to fruition.
"University Commons is an important asset to Lindenwood University and its vision," stated Lindenwood President Michael Shonrock. "This development, coupled with our ongoing campus improvements, makes the overall experience at Lindenwood like no other."
Located on property owned by Lindenwood, University Commons is a mixed-use project, developed by DESCO Development and the university, that has played an important role in the city and county's growth trends. It is home to well-known retailers like Schnuck's, GNC, CVS Pharmacy, Great Clips, and Crown Optical. The development also recently welcomed MOD Pizza, AT&T, and Mattress Direct with a number of additional businesses slated to move in.
Steve Ehlmann, St. Charles County Executive, cited improved access as a key component for the county's participation in the project.
"Our office's primary focus has always been on improved commuter access throughout the region," Ehlmann said. "We invested in the West Clay extension because of the positive impacts it will provide everyone along the First Capitol corridor."