Katherine Schack ('03, '07) has achieved many impressive accomplishments during her 12 years as an educator in the Wentzville School District. Her receipt of a Presidential Award for Excellence in Mathematics and Science Teaching is, arguably, one of her most notable.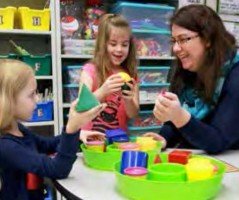 The award is the highest recognition a K-12 mathematics or science teacher may receive for outstanding teaching in the United States. Schack was among 213 mathematics and science teachers from across the country named in August 2016 by President Barack Obama as a recipient of the prestigious honor.
The winners were selected by a panel of distinguished scientists, mathematicians, and educators following an initial selection process at the state level. Winners received a $10,000 award from the National Science Foundation to be used at their discretion and were invited to Washington, D.C., in September 2016 for an awards ceremony, educational and celebratory events, and visits with members of the Obama administration.
"What an incredible honor to have been chosen as a recipient of the presidential award," Schack said. "I feel incredibly humble and motivated by this. I have the privilege of working with some of the most dedicated, hard-working educators that I have ever known. This award acknowledges all of the amazing, innovative work going on in my school district and pushes me to continue to increase expectations, model perseverance, and create classroom cultures in which the students are guiding their own learning."
Schack began her career in 2004 teaching first grade at Heritage Primary School in the Wentzville School District. She moved to Lakeview Elementary School in 2010, where she taught second grade for three years and then returned to the first grade classroom. In 2014, she became a district-wide mathematics coach, working hand-in-hand with teachers to increase student engagement, encourage problem-solving within and beyond the classroom, and aid in creating classroom learning structures that enable students to be met on their individual levels.
In 2016, Schack undertook a new role as math content leader and K-12 curriculum coordinator for the district, in which she helps educator teams develop curriculum and review and evaluate content and teaches when needed. She recently spearheaded the organization and implementation of the district's new teacher math curriculum and Math In Focus® training, and she has also presented at the Missouri Council of Teachers of Mathematics, Interface, and Missouri Staff Development Council conferences, where she presented on STEM in the classroom and increasing student conversations.
"From a young age, I knew my passion was to share my love of teaching with others," Schack said. "I've been able to do that thanks to the amazing Wentzville School District, so I'd love to keep seeing my work through here. I'm loving what I'm doing, and this feels like home."