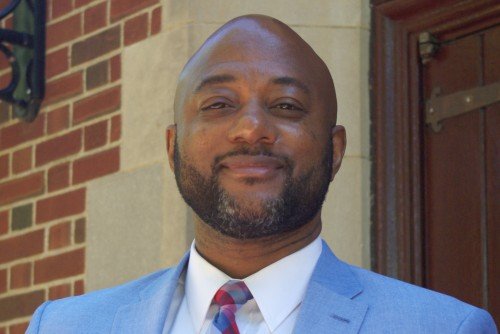 Patrick Walker, associate professor of nonprofit administration, was honored at a gala on Saturday, June 25, with an award from St. Francis Community Services recognizing his impact in the community.
The 2016 Symbol of Hope Award, presented by St. Francis Community Services, is awarded to "an individual from humble beginnings who has created large and positive impact in the community." Walker, raised in Winston Salem, N.C., by his grandparents, is a first-generation college graduate, holds an MBA and a law degree, and has worked as a business lawyer and a professor.
Walker joined the Lindenwood faculty in 2012 and in his second year won the Emerson Electric Company Professor of the Year Award and was elected president of the Faculty Council. In addition to his teaching, Walker conducts management seminars for local and national nonprofit organizations, small businesses, and Fortune 500 companies to help them navigate through critical management and decision-making processes and strive toward effectiveness, efficiency, and financial stability. He also serves as chair of the university's recently formed Diversity, Equity, and Inclusion Committee.
"Everyone deserves a chance to live up to their fullest God-given potential," Walker said. "I am deeply honored and humbled to receive this inaugural award from St. Francis Community Services, whose track record in paving the way for social and economic justice for individuals who've been marginalized is unparalleled. This award belongs to those who have struggled, sacrificed, sojourned, and partnered with St. Francis to provide hope to children and families across the region."
St. Francis Community Services was established in 2011 by uniting the social service programs once operated directly by Catholic Charities of St. Louis. Walker's award was one of two presented Saturday at the organization's Seeds of Hope Gala at the Marriott West in St. Louis County.