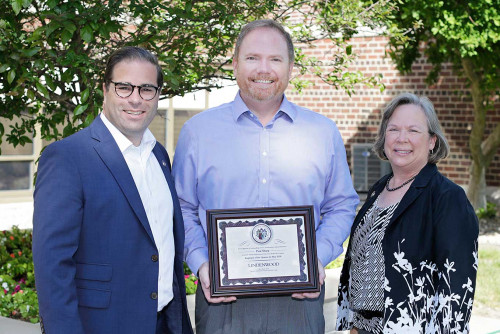 Assistant Professor of Education Leadership Dr. Paul Sharp was recently selected as Lindenwood University-Belleville's Employee of the Quarter.
According to his nominator, Dr. Stephanie Yearian, Sharp has taken on additional responsibilities for the Division of Education and Counseling in the passing of former division chair Dr. Steve Suess. Not only did Sharp accept the role of interim division chair, but he has taken lead on enhancing enrollment and recruitment efforts for the division's graduate programming, Yearian said. Sharp also continues to serve on Faculty Council, has assisted with arranging faculty workshop schedules, and has led sessions at the annual adjunct conference. He is also the study abroad liaison for the Belleville campus.
"I appreciate the camaraderie among the faculty and staff on this campus–we have a real shared approach to success," said Sharp. "There is a campus culture and environment that illustrates how we all work together for the betterment of the institution. We all want Lindenwood Belleville to succeed, and we're all in this together."
Sharp joined the Lindenwood faculty in 2013 and will be approaching his 22nd year in education this fall. He began his career in the K-12 system in Missouri and held roles as teacher and administrator.
Sharp holds two undergraduate degrees from Indiana University in Bloomington, one in political science and the other in history education, a master's degree in educational administration from Missouri State, and a doctorate in education from the University of Missouri. He and his wife Tracy, a Lindenwood Belleville adjunct instructor and teacher in the Kirkwood School District, live in St. Louis' Soulard neighborhood.
Cutline: Pictured from left are Campus President Dr. Brett Barger, Employee of the Quarter Dr. Paul Sharp, and Campus Provost Dr. Renee Porter.