Leahy was most recently a lecturer in film and media studies at Washington University in St. Louis, as well as an adjunct professor at Lindenwood University-Belleville. He previously served as the communications coordinator for the University of Minnesota, and he has taught at the Minneapolis College of Art and Design.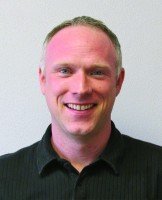 Leahy's creative work has been featured in numerous film festivals and exhibitions, including the St. Louis International Film Festival, the Stella Artois St. Louis Filmmakers Showcase, the Tweed Museum of Art, and the Minneapolis College of Art and Design Gallery. Last year, Leahy was awarded first prize in the Pulitzer Foundation for the Arts and Cinema St. Louis Dreamscapes Filmmaking Competition.
While earning his degrees, Leahy also gained experience internationally during a study abroad program on the art of Rome through Loyola University and the John Felice Rome Center in Rome, Italy.
At Lindenwood Belleville, Leahy plans to teach courses in film/video/audio production, as well as web design, digital photography, and media analysis.
"I am tremendously excited about joining the LU-Belleville community," Leahy said. "There is so much that is new and challenging during this time of tremendous growth, and I am honored to be a part of the evolution. I am committed to the success of our students and look forward to working with them to facilitate their growth as professionals in such a supportive environment."