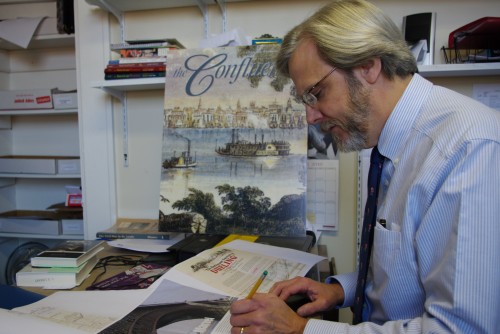 Jann Weitzel, Lindenwood's Vice President for Academic Affairs, was recently notified that Jeff Smith, Chair of the History department, was selected for a 2011 Missouri Humanities Award for Lindenwood's regional studies journal The Confluence, which Smith edits. Specifically, Smith was chosen for the council's award for Distinguished Achievement in Literature, which is for people who have written books or produced publications that advance humanities in a broad sense.
"The awards committee of the Missouri Humanities Council receives a large number of nominations every year," stated the letter from the council notifying Weitzel of the award. "It is a significant and meaningful achievement to be chosen for this honor."
Through the awards, the humanities council recognized excellence in education, exemplary community achievement, and distinguished literary achievement. Smith said an awards presentation ceremony is scheduled for April. He said he found out about the award on Saturday.
"I am very pleased we got this recognition," Smith said. It is great for us as a publication and as a university. What makes The Confluence appealing for something like this is the way it connects humanities to the community. The journal also shows that good scholarship need not be boring and it need not be dull."
The Confluence, which is published in the fall and spring, debuted in the fall of 2009 and recently published its fifth issue. The journal accepts unsolicited scholarly articles on all aspects of the St. Louis region, including its art, architecture, politics, history, and science, among others. The selected articles are peer reviewed and fully illustrated in the full-color magazine-style journal.
"As Lindenwood recasts what it means to be a university in the 21st century, it becomes clear that having a role in the community is a part of it," Smith said. "The Confluence is a part of that effort.