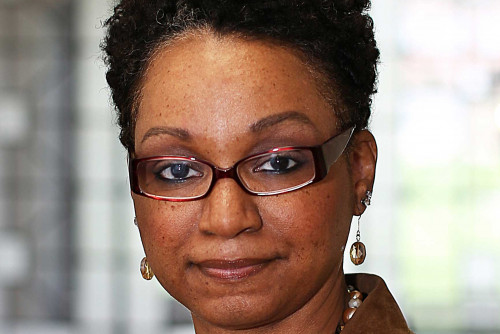 Lindenwood University-Belleville's Division Chair of Social and Behavioral Sciences and Associate Professor of Criminology and Criminal Justice Dr. Andrea Boyles is taking her profession to the global stage, as she attends the United Nations (UN) Commission of the Status of Women (CSW) in New York City this spring. As a member of the non-governmental organization, Sociologists for Women in Society (SWS) and as co-chair of that organization's Women of Color Committee, Boyles will join other experts in the field of gender equality as a catalyst for social change.
"I have a unique opportunity as a feminist race scholar and researcher to represent an academic organization and committee in a global space and be engaged in ways that help shape what we know about gender inequality," said Boyles.
During the commission, Boyles will be joined by international women from diverse backgrounds, where she will have the opportunity to engage with other women who are leaders in the advancement of gender equality. Additionally, delegates from SWS are working and hoping to provide a short oral intervention as part of an interactive panel. Other UN entities and non-governmental organizations from throughout the world are expected to attend the event.
"This is important to me because as a feminist race scholar, I've been engaged in this work throughout my career," said Boyles. "Now, I have the opportunity to work with peers who specialize, globally, in the kind of work I do. So, I know I will not only be able to share, but learn from this as well."
Boyles intends to bring her experience back to the classroom with her and further her students' knowledge by giving them real-world, relevant examples and experiences to study.
"Education fuels research, and from there research fuels education," said Boyles "So, it's essential to me that I bring these experiences and knowledge back to the classroom with me."
The CSW is an entity of the UN Women and holds an annual two-week convention that is entirely dedicated to the promotion of gender equality and the empowerment of women and also focuses on promoting women's rights, documenting the reality of women's lives around the globe, and shaping global standards on gender equality. Boyles has been a member of the SWS for nearly 11 years and as an organization, the SWS is the one-stop-shop for feminist scholarship. It is a feeder for all information and research regarding gender, race, and equality.
Boyles has been teaching at Lindenwood University-Belleville for nearly eight years. All the classes she teaches are gender- and race-based, where she brings her research and experience into her classroom lessons and discussions. Boyles earned a Ph.D. in sociology with concentrations in gender and criminology from Kansas State University, and received her master's degree in sociology and a bachelor's degree in English from Lincoln University in Jefferson City, Mo. Boyles is the author of Race, Place, and Suburban Policing: Too Close for Comfort and was a contributor/essayist in Segregation by Design, with a forthcoming manuscript on Community Disorder and Social Ties in Post-Ferguson. She is also the creator and facilitator of a Girls on Fire Roundtable Series that brings young, expecting mothers living in transitional housing in the City of St. Louis "to the table" to engage--lead and partake--in dialogue, critical thought, and conflict-resolution in ways that shape and increase empowerment and leadership.