Lindenwood University-Belleville is pleased to announce that, effective Nov. 1, 2013, Reeta Piirala-Skoglund will assume the role of dean of admissions for the campus.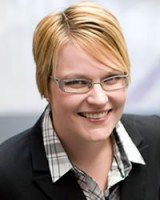 This position was newly created by the university as a result of its growing student body, which now totals nearly 2,000 day and evening students in undergraduate and graduate programs. Since the creation of the day program in 2009, the number of traditional day students enrolled at Lindenwood University-Belleville has climbed from 100 to more than 1,000 in only four years.
"We are delighted to welcome Ms. Piirala-Skoglund to campus as our Dean of Admissions," said Dr. Jerry Bladdick, President of Lindenwood University-Belleville. "Her vast recruiting experience will prove invaluable to our university as we enter the 2014 academic year and in the years to come."
"I am delighted to join the staff at Lindenwood University Belleville and look forward to working with the staff, faculty, and students," Piirala-Skoglund said. "There are great things happening on campus, and I am excited to become part of the team!"
Piirala-Skoglund comes to Lindenwood with an extensive background in higher education admissions and recruitment. She has served as the director of enrollment for West Virginia University's Institute of Technology and was formerly the associate director of admissions at Indiana University Kokomo for several years. She earned her bachelor's degree in finance and economics and her MBA from Indiana University Kokomo.
"Lindenwood University-Belleville continues to attract a high-level of talent from across the country," Bladdick said. "Ms. Piirala-Skoglund's arrival is a testament to the widespread reputation for excellence that Lindenwood Belleville faculty, staff, and students are achieving on a national scale."