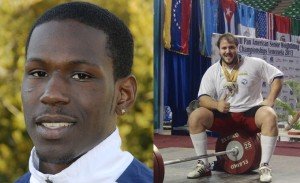 A pair of accomplished Lindenwood University alumni had strong showings Tuesday at the Summer Olympics in Rio de Janeiro.
Weightlifter Fernando Reis, representing host country Brazil, finished fifth in the 105-kilogram weight class while former Lions track and field star Donald Thomas ('06) finished seventh in the men's high jump.
Reis, 26, lifted 435 kilograms, just 13 kilograms short of the bronze medal and 42 kilograms short of the world record-setting lift of 473 kilograms by Lasha Talakhadze of Georgia. It was the second Olympic appearance for Ries. He finished 12th in London in 2012.
Thomas, 32, representing the Bahamas, tied for seventh with a jump of 2.29 meters. That was .04 meters shy of the 2.33-meter mark that took the bronze medal and .09 meters shy of the 2.38-meter jump by Canadian Derek Drouin that won the gold.
This was Thomas' third appearance in the Olympics and the first time he made it all the way to the finals. He finished 21st at the 2008 Olympics and 27th at the 2012 summer games.
Reis and Thomas were among eight athletes with Lindenwood ties who qualified for the 2016 Rio Olympics. The others were
Skeet shooter Morgan Craft ('15) finished fifth for Team USA
Incoming freshman Hidilyn Diaz won a silver medal in the 53 kilogram class of women's weightlifting
Women's rugby player Richelle Stephens finished fifth as part of Team USA
Triple jumper Fabian Florant finished 22nd for the Netherlands.
Weightlifter Muhammad Begaliev, a sophomore last year, qualified for the Olympics with plans to represent Uzbekistan in the 85-kilogram division but was unable to complete because of a knee injury.
Former student Mike Rodgers is scheduled to run for Team USA in the 4-by-100-meter relay race Thursday.