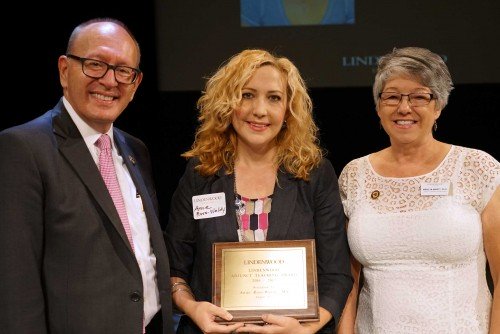 Anne Ross-Weldy of the Plaster School of Business and Entrepreneurship was announced as the 2017 adjunct instructor of the year at the Adjunct Instructor Conference on Aug. 19.
Ross-Weldy, who earned her master's in nonprofit administration from Lindenwood in 2009, received the award on her five-year work anniversary as an adjunct instructor for Lindenwood in the nonprofit administration department.
"I'm beyond excited about the honor and privilege to be Adjunct Instructor of the Year," Ross-Weldy said. "I get to shed some light on the department and share this award with them."
The Adjunct Instructor of the Year Award is presented to the part-time or adjunct instructor who, in the judgment of Lindenwood colleagues, demonstrates the best combination of pedagogical innovation, student-centeredness, and effectiveness as a classroom teacher during the present and prior academic years.

Students wrote glowing reviews for Ross-Weldy in their evaluations: "everything she teaches is thought-provoking," "she teaches with humor and depth," "her passion for knowledge keeps me engaged," "her classes are always my favorite and she is an incredible asset to the department."
She consistently receives high marks on her semester-based course evaluations.
"In the nonprofit department, we try to demonstrate the principles we want our students to embody," Ross-Weldy said. "We use practical exercises, simulations, case studies, and other things that give the students an enhanced learning experience."