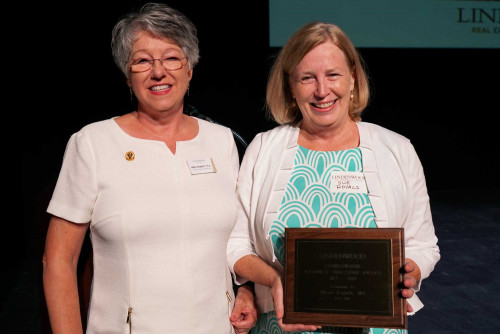 Susan "Sue" Royals was announced as the 2018 Lindenwood University adjunct instructor of the year at the Adjunct Instructor Conference on Aug. 11 in the J. Scheidegger Center for the Arts.
As an adjunct instructor at Lindenwood University for 12 years, Royals has taught a variety of courses and advises students at the undergraduate and graduate levels in the Lindenwood School of Education.
Royals was nominated by Dr. Mary Ruettgers, assistant dean of teacher education. Ruettgers called Royals a "role model" in her nomination letter and had this to say about her:
"In the past, I have had many students share how much they learned in Professor Royals' classes. When she teaches the introductory education courses, she is the first education professor they encounter…what an effective and positive person to have teaching introductory courses! They continue to share how she is flexible, kind, and knowledgeable, yet she holds the students to high standards. This is truly what we want for all students."
The Adjunct Instructor of the Year Award is presented to the part-time or adjunct instructor who, in the judgment of Lindenwood colleagues, demonstrates the best combination of pedagogical innovation, student-centeredness, and effectiveness as a classroom teacher during the present and prior academic years.
---
Photo cutline: (Left to right) Lindenwood University Provost Dr. Marilyn Abbott presents the 2018 Adjunct Faculty of the Year Award to Susan Royals at the Adjunct Faculty Conference, held Aug. 11, 2018 at the J. Scheidegger Center for the Arts.