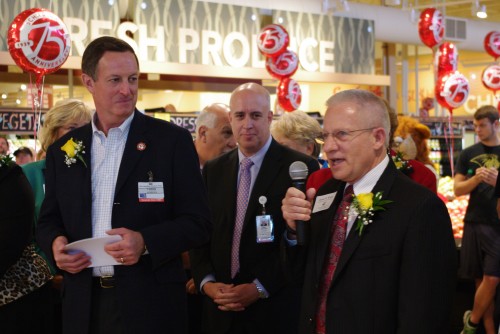 Shoppers packed the front entrance Wednesday as dignitaries cut the ribbon to open the much-anticipated Lindenwood Schnucks at University Commons. Schnucks employees wore Lindenwood caps, and the LU cheerleaders and mascot entertained the early-morning crowd.
Located at 1900 First Capitol Drive in St. Charles, the new Schnucks replaces the company's 33-year-old store located at 800 S. Duchesne Road (acquired from National in 1995) just one mile away. The Duchesne store closed permanently on Tuesday.
Customers are able to relax in the open air, climate-controlled café along with television and free Wi-Fi, said store manager JoAnn Smashey, who added that an express register makes it easier for café customers enjoying pizza, Smoke & Grill items, hot Panini sandwiches or ready meals. And on Friday and Saturday evenings, the café will be the backdrop for fun and entertainment.
Representatives of Lindenwood University have been involved throughout the process and there are now plans to sell university approved spirit wear and accessories.
"This is actually the kind of store and synergistic University-to-store relationship I had envisioned and hoped for," said Lindenwood University President James D. Evans, PhD. "I am very excited about this grand opening and what the coming years hold for Schnucks and Lindenwood."
Schnucks President and CEO Todd Schnuck said his company had other stores near college campuses.
"…but this is the first time we've actually partnered with a university at this level and on a store that literally sits on the edge of campus," he said. "Our vision is that Schnucks Lindenwood will be more than a food and pharmacy source for the community. In many ways, we are nourishing people's lives by providing a 'home away from home' – access to food and pharmacy education as well as restaurant, meeting, entertainment and study space in a comfortable environment."