Lindenwood University has received a $1 million gift to establish a Free Enterprise Institute at its growing School of Business and Entrepreneurship. The donation will establish a free enterprise institute.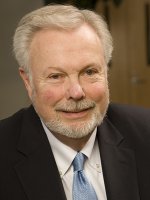 The donor is John W. Hammond, a longtime member of Lindenwood's Board of Directors. Hammond joined the board in 1991 and currently serves as its treasurer.
"Lindenwood University's impact on young people is something I have always admired and been attracted to," said Hammond. "This gift is a perfect combination of blending my interests with what Lindenwood does best."
The John W. Hammond Institute for Free Enterprise is expected to launch in the fall. Hammond and the university say the institute's mission will be to promote the understanding, benefits, nature, and importance of free private enterprise in our society.
"We are so grateful to John for this gift, and for his wonderful leadership on the board of directors," said President James D. Evans, PhD. "This gift will help Lindenwood provide an even stronger foundation for our business students for generations to come."
Three programs currently in the School of Business—the Institute for the Study of Economics and the Environment (ISEE), the Duree Entrepreneurship Center, and the Liberty and Ethics Center—will form a federation-like structure under the umbrella organization of the Hammond Institute.
"Our constitution is the rock of this country, and it is eroding," Hammond said. "I hope the institute can help us all see what the framers of the constitution had in mind when they wrote the document."
Institute programming will be open to Lindenwood's faculty, students, and staff, as well as invited colleagues in higher education and university friends. The general public will also be invited to programming that promotes the ideals of the value of free private enterprise policy around ethics and justice and the value of the U.S. Constitution.
Economics Professor Howard Wall will head up the Hammond Institute and ISEE. Professor Rachel Douchant will lead the Liberty and Ethics Center, and Professor David Rosenwasser will operate the Duree Center for Entrepreneurship.
Hammond, a retired business owner who lives in Chesterfield with his wife, Barbara, is still very active in civic endeavors.