Vicki Schrader has been hired as grants manager at Lindenwood University. She conducts research, completes applications, and maintains proper reporting procedures for all grants accessed through the school's Institutional Advancement Office.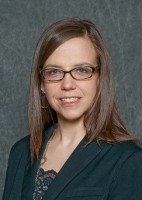 "With a primary focus on managing Lindenwood's grants program, I'll help generate revenue for both the University and its academic programs," Schrader said. "This will allow us to enhance and create additional programs to benefit our students."
Prior to coming to Lindenwood, Schrader served for seven years as an annual fund manager for the Center for Hearing & Speech in St. Louis, Mo. With over 10 years of experience in the nonprofit field, she has expertise in marketing and communications, organizational development, and special event management.
Schrader holds an undergraduate degree in mass communications from Webster University and a master's degree in speech communication from Southern Illinois University Edwardsville. She currently resides in Valley Park, Mo., with her husband, Alex, and their three children.