Lindenwood University's shotgun sports team has claimed an unprecedented 11th ACUI Clay Target National Championship. The team accomplished its mission Sunday in San Antonio, Texas at the National Shooting Complex.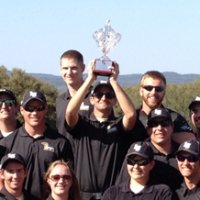 Lindenwood, under the tutelage of Coach Shawn Dulohery and Assistant Coach Steve Wolk, posted one of the programs best overall shooting totals in the history of the event, hitting 2,278 targets out of 2,350. That bested Bethel University by 58 targets. Embry-Riddle Aeronautical University finished third.
The Lions swept all six major team competitions, including American and International Skeet, American and International Trap, five-stand, and sporting clays. Lindenwood earned 21 individual medals and collected eight individual championships.
Sarah Hughes won the ladies High Overall title as well as the women's five-stand and combined International events. Casey Van Sant was the top International trap shooter and he also won the sporting clays competition. Drew Feig earned top honors in American trap, Ryan Smithart took the combined skeet title, and Morgan Craft won the women's combined skeet championship.
One of many championship celebrations will occur at the Shotgun Sports Clays Classic Saturday, April 26 at St. Louis Skeet & Trap.