Belleville, IL – Melissa Shreve has been named admissions counselor and financial aid officer at the Lindenwood University campus in Belleville. Prior to accepting the position, she worked for three years in academic services at Southwestern Illinois College.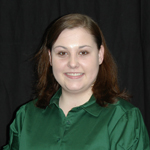 Shreve says she feels honored to be part of the Belleville campus' expansion process.
"I'm glad to have the opportunity to help build something new, to give students another opportunity to continue their education close to home."
Shreve is originally from Waterloo, Ill., and moved last year into a home in Belleville which she is restoring. She is currently pursuing a bachelor of arts degree in human resources at Lindenwood.