Lindenwood University-Belleville athletics continue to break school records with USCAA National Championship wins by the Lynx baseball and softball teams.
The Lady Lynx (35-23-1) used great pitching and timely hitting on their way to a 2-0 victory over No. 1 St. Mary of the Woods in the 2014 USCAA National Championship game.
Due to inclement weather, the USCAA National Tournament was moved to a single elimination bracket with the Lady Lynx being the final undefeated team. Pitcher Taylor Winn led the Lady Lynx for the week, finishing 2-0 and adding a save. On May 14, Winn picked up the victory after going 5 1/3 innings and allowing just two hits. Six Lady Lynx players each picked up a hit in the championship game.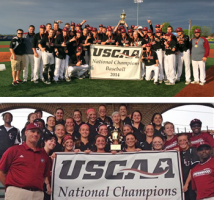 With the win, the Lady Lynx finish the season 35-23-1 and pick up their second straight USCAA National Championship. The Lady Lynx finished this year's national championship 3-0 after finishing the 2013 USCAA National Championship 4-0. The 35 wins set the program record for most wins in a season. Next season, the Lady Lynx will compete in the American Midwest Conference for the first time.
"This was a difficult season transitioning 20 new players and losing 16 seniors from last season's national championship team," said Head Softball Coach Charlie Kennedy. "We faced everyone's number one line-up all year and knew there would be a heavy challenge to win again. It feels tremendous to have a program of dedicated young ladies who care for each other and wanted to become 2014 national champions."
The Lynx baseball team also brought home a victory with a 15-2 win over No. 1 Cincinnati–Clermont in the USCAA National Championship game. With the win, the Lynx have picked up their first USCAA National Championship in program history. Dylan Arvai (6-2) picked up the win on the mound for the Lynx after throwing a complete game, scattering 11 hits, and allowing just two runs. Arvai also added five strikeouts while only allowing one walk. Mirek Sharp led the Lynx on offense in the championship game, finishing with three hits and three runs scored. Connor Allen finished with two hits and team leading five RBIs.
With the win, the Lynx finish the season 38-14, picking up their first 30-win season in program history. The Lynx finished 4-0 at this year's USCAA National Championship after finishing 2-2 last year.
"This win means a lot to our program," said Head Baseball Coach Logan Johnson. "We set out to achieve this goal, and our guys put in the time and work to get it done. I am very proud of their effort."