The Illinois Basketball Coaches Association (IBCA) announced that Lindenwood University-Belleville's director of athletics and head men's basketball coach, Scott Spinner, has been named the IBCA Coach of the Year for the college division. Spinner receives his award at the IBCA Hall of Fame banquet on April 26 in Bloomington, Ill.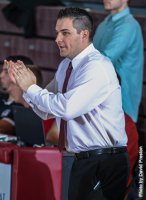 "I am honored to receive this award from the IBCA," stated Spinner. "As with any award to a player or coach in our program, we view it truly as a team award. Every coach and player in our program worked very hard this season, and their hard work is what makes awards like this possible."
The Lynx finished the season with a 22-9 record and made their first trip to the NAIA National Tournament in program history. In late February, the Lynx made history again when they were ranked No.-24 in the NAIA weekly coaches' poll. This marked the first time that a Lindenwood Belleville athletic program had been ranked in the NAIA. The Lynx were ranked as high as No.-21 before the end of the season.
To end the season, the Lynx won 11 of their final 13 games, including an 11-game winning streak. During the streak, the Lynx knocked off previously No.-1 and No.-3-ranked Freed – Hardeman by a combined three points. The Lynx defeated the Lions 78-77 in Henderson, Tenn., on the last second buzzer by Jacobby Anderson. Less than two weeks later, in front of a packed house inside the Lynx Arena, the Lynx defeated the Lions for the second time by a score of 83-81.
In the four years that the men's basketball program has been in existence at Lindenwood Belleville, Spinner has compiled an 82-46 record with three trips to the USCAA National Championships and one trip to the NAIA National Tournament.
"It has been an absolute blessing to be able to start a college basketball program, as we did 4 years ago," Spinner said. "To see the program having so much success in such a short period of time is very rewarding as a coach."
Next season, the Lynx will be a part of the American Midwest Conference for the first time after being an independent institution this season.