Lindenwood University football player Sterling Thomas, 18, of Broken Arrow, Okla., was transferred Nov. 12 to Shepherd Center in Atlanta, Ga. Thomas sustained a spinal cord injury during a Lindenwood home game in St. Charles on Saturday, Oct. 27.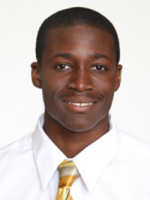 He was diagnosed with a cervical level spinal cord injury and was treated in St. Louis until being transferred and admitted to Shepherd Center's Spinal Cord Injury Program. After doctors at Shepherd Center determine an appropriate treatment plan for Mr. Thomas, he will begin a rigorous rehabilitation program under the guidance of a full team of medical and rehabilitation specialists, according to a press release issued by Shepherd Center.
Shepherd Center specializes in medical treatment, research and rehabilitation for people with spinal cord injury or brain injury. Founded in 1975, Shepherd Centeris a private, not-for-profit hospital and is ranked by U.S. News & World Report among the top 10 rehabilitation hospitals in the nation.
Medical and rehabilitative teams at Shepherd Center typically include the following: an attending physician, nurse, occupational therapist, physical therapist, speech language pathologist, recreation therapist, case manager, peer support specialist, nutritionist and psychologist, according to the release.
Nearly 300 people attended a prayer service Thursday, Nov. 1, in Lindenwood's Hunter Stadium in support of Thomas. Speakers included Lindenwood President James D. Evans, Athletics Director John Creer, Coach Patrick Ross, Head Athletic Trainer Randy Biggerstaff, team captain Malach Radigan, and Thomas' youth pastor from his home in Tulsa, Okla., Justin Taylor. A fund raising drive for Thomas' family was launched at the event.
The family is appreciative for the outpouring of support from the community and requests privacy as they focus on Thomas' rehabilitation. A fund has been established to help offset medical expenses. Donations can be made to the "Sterling Thomas Contribution Account" at Bank of Oklahoma branches. Lindenwood University is also selling wristbands and Sterling Thomas jerseys. All proceeds go to a fund to support the Thomas family.