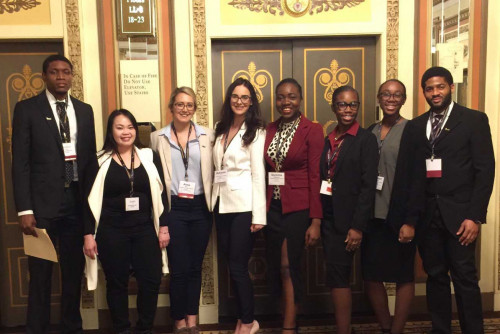 Students in Lindenwood University-Belleville's Enactus Club traveled recently to Chicago to attend the Regional Competition for Enactus United States.
Enactus is an international nonprofit organization consisting of student, academic, and business leaders who are committed to using the power of entrepreneurial action to improve the quality of life and standard of living for people in need. Guided by academic advisors and business experts, the student leaders of Enactus create and implement community empowerment projects.
According to incoming senior and newly elected Enactus Club President Taylor Harris of O'Fallon, Ill., the opportunity to travel to Chicago for the regional competition not only drew her and her fellow club members closer but also gave the group the tools to begin to put together a project of their own. For the competitions, teams must develop, plan, and implement an entrepreneurial-based project.
"We've decided that we are going to work in partnership with the Salvation Army to put together a project surrounding sustainability," said Harris. "With that, we are hoping to help build a community garden near Belleville West High School and include educational components about sustainability, recycling, and other aspects to promote a healthy environment."
Team members who attended the event include Jasmyne Harris, O'Fallon, Ill.; Lethan Nelson, St. John's, Antigua; McKensie Hill, Belleville, Ill.; Sochima Ofoegbunam, Abuja, Nigeria; Susan Wu, St. John's, Antigua, Kenrico Lockhart, Nassau, Bahamas; and Anna Preis, Bridgeton, Mo.
Following the regional competitions, selected teams move on to the Enactus United States National Exposition, an annual competition that brings together more than 500 teams of students from around the country to showcase their projects for community benefit. With more than 100 of the nation's top companies present, the event is also an excellent networking opportunity for students looking to land jobs or internships at major corporations.
"We're really looking forward to putting together this project and engaging in regional and, hopefully, national competitions, which I think will certainly enhance our student experience," said Harris.
Photo cutline: Student leaders from Lindenwood University-Belleville's Enactus Club. From left are Kenrico Lockhart, Nassau, Bahamas; Susan Wu, St. John's, Antigua; and Anna Preis, Bridgeton, Mo.; McKensie Hill, Belleville, Ill.; Sochima Ofoegbunam, Abuja, Nigeria; Taylor Harris, O'Fallon, Ill.; Jazmyne Harris, O'Fallon, Ill.; and Lethan Nelson, St. John's, Antigua