Lindenwood University has partnered with the City of St. Charles to produce an updated edition of the city's Accessibility Guidebook for People with Disabilities. Students from the university's School of Human Services are working with the St. Charles Citizens with Disabilities Board to assess the compliance of local businesses with guidelines set forth by the American with Disabilities Act.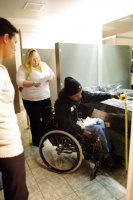 The project launched on Feb. 22 during a training session at St. Charles City Hall. Lindenwood social work students met with a panel of representatives from local advocacy groups and also received instruction on how to properly perform accessibility checks.
As part of the ongoing project, Lindenwood students will meet with the City Council, the Disabilities Board, and the Senior Citizen Advisory Commission to learn more about public accessibility issues. They will also venture to local businesses to perform checks at new and previously verified businesses for inclusion in the updated guidebook.
"This partnership is perfect for the students because it gives them the knowledge and skills necessary to work in the field," said Dana Klar, assistant professor and field education coordinator in the Lindenwood School of Human Services. "At the same time, we hope to help the city as much as possible by giving this project a solid boost throughout the process."
Pictured: Lindenwood University students Stephanie Werner, far left, and Brittany Breen look on as Willie Kimbrough of Paraquad gives accessibility measuring instruction during a training session at St. Charles City Hall on Feb. 22.