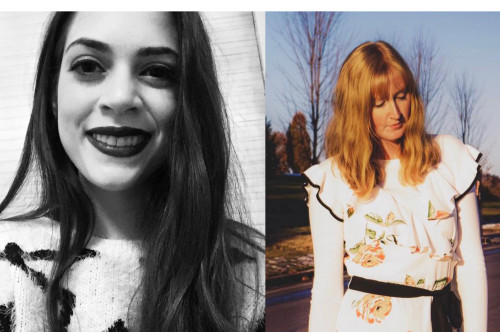 Two Lindenwood fashion design students are participating in the runway show, Threads: History Never Looked So Haute, starting on April 13, 2019, at the Missouri History Museum, 5700 Lindell Blvd. in St. Louis.
Junior Natalia Soares de Silva (pictured left) and senior Anna Heinold (pictured right) were selected for the show, which is a fundraiser for the Missouri History Museum, based on scores given by fashion industry experts at the Lindenwood fashion show. After the runway show, the designs will be on display in the atrium at the Missouri History Museum. The atrium exhibit is free and open to the public April 13 through July 14.
"We are extremely proud of Anna and Natalia for acceptance into this exciting history-making event," said Dr. Chajuana Trawick, chair of the Fashion Business and Design Department. "Visits to the Missouri History Museum, Library and Research Center, and the Missouri Historical Society's clothing and textile collection have been a part of our History of Costume classes since 2012. The students have thoroughly enjoyed visiting the archives for my class and on their own for homework assignments. This is truly an amazing opportunity for our students, program and school, and we can't wait to see the show."
Visit our website for information about the Fashion Business and Entrepreneurship program.
Related Article