The university is once again sponsoring the Summer Rhythm and Music Series on the Lindenwood Belleville campus!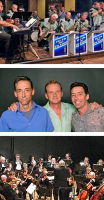 The 2015 program is as follows:
On Saturday, June 27, The Big Little Big Band will perform. This group of 11 musicians will perform the music of classic great Big Bands like Count Basie, Duke Ellington, and Stan Kenton, as well as modern arrangements of classical jazz.
On Saturday, July 18, join us for an evening with The Bel Airs. Formed in 1981, the Bel Airs play a mix with an authentic but eclectic blues-country-soul-and-rock-n-roll influenced by the likes of Wilson Picket, Slim Harpo, Howlin' Wolf, and Johnny Cash.
We will close the season on Saturday, August 22, with the Belleville Philharmonic as they play the music of The Wonderful World of Disney© in a Belleville first-of-its-kind début! Arrive early to join in a special pre-event celebration for you and the kids.* Tickets for the pre-event are sold separately.
Tickets will be $20 per show. The pre-event celebration tickets on August 22 are $15, and children under 2 are free. All shows will be held at the Lindenwood Auditorium at the Belleville campus from 7-9 p.m. The pre-event celebration will be held in the upper level of the U.S. Senator Alan J. Dixon Student Center. Tickets are on sale now at the Lynx Campus Store. You can obtain tickets by calling toll free 844-843-5969 (LYNX).