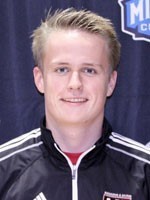 The Lindenwood University-Belleville swimming and diving team traveled to Columbus, Ga., recently to compete for the NAIA National Championship, where the men finished fourth out of 18 teams while the women finished ninth out of 21 teams.

The most notable performance on the team came from Niels Engeln, a sophomore from Recklinghausen, Germany, who won the 500-freestyle and the mile for the Lynx.
Although Engeln is a sophomore by age, he is a junior by credits and expects to finish school May 2019. He knew coming into this season with a new head coach that practices and the style of swimming would be different.

"I had no idea what to have expected with the new head coach," Engeln said. "We got a great number of new swimmers, and I didn't know if we would be able to win again like we did the last two years. One thing that I will say is that practices were a little bit tougher and harder."

Previously this season, Engeln also broke the 1,000-freestyle school record at the Delta State Christmas Invitational, which ran between December 16 and 19. At the Washington University Invitational on Jan. 12, he placed first in the men's 500-meter freestyle event with 20 points, finishing three points ahead of the runner-up.

At the Mid-South Conference tournament at the beginning of February, Engeln was one of the highest scorers on the team, helping the men's team place first in the conference for the third straight year. He carried his performance into the National Championship.

"I expected to make it into the finals," Engeln said. "When I looked at the top swimmers for the 500-freestyle and the mile, the 500-freestyle championship surprised me the most."

Much to the delight of Head Coach Ksenia Gromova, Engeln performed like a veteran throughout the season.

"One quality that I would like to say about Niels is that he is very smart," Gromova said. "When it comes to training and swimming, he's really smart. I don't have to worry about going and talking to him about changing something; he knows exactly what he's doing."

The Lynx will lose a handful of seniors who have contributed greatly to the success of the swimming and diving team over the past several years, and Gromova said Engeln will have the opportunity to grow as a leader as he enters his final season.

"He will definitely have to step up and be the leader," Gromova said. "We are losing our captain at the end of this year, Tim (Schmalzreich), so I am going to have him in charge. I've spoken to him about it already, and he knows what his expectations are for next year and he's excited about it."

The swimming and diving team will prepare this offseason to bolster the team, bring in more international swimmers, and aim to win its fourth consecutive Mid-South Conference title.