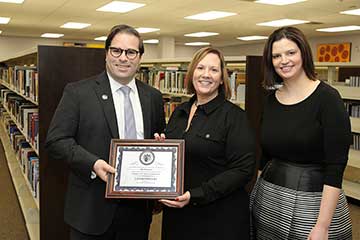 Lindenwood University-Belleville Librarian Teri Terranova was recently named Employee of the Quarter.
Terranova joined the Lindenwood staff in May 2016. Alongside taking on the role of campus librarian, she has spent her time at Lindenwood University-Belleville preparing criminal justice students for mock trial, judging symposiums and essay contests, and preparing students to join the workforce. Terranova said she is very dedicated to helping students succeed and commonly takes on the role of a cheerleader for various school sporting events, theatrical productions, and a variety of other student presentations.
"I take on whatever role is necessary in order to make sure our students are successful," said Terranova. "It was an awesome feeling to be recognized for what I consider 'just doing my job.'"
While spending the summer and fall of 2017 working closely with the English Department, Terranova created LibGuide, a resource offering students supplementary materials and assistance tailored directly to their projects. Since being named Employee of the Quarter, she continues to serve the student body by adding updates and creating new research guides for LibGuide.
"While I have access to many great resources now, I want our students to have custom materials designed specifically for their needs," she said.
She attributes her drive for helping students to her desire for all students to succeed and unlock the immense amount of research sitting at their fingertips.
Terranova was nominated by English Professor Megan Peabody for her close work with the English department, helping all of its instructors meet various student needs.
"Teri has been a vital partner to many academic departments," said Peabody. "She exemplifies the best in faculty-staff relationships. She brings creativity and follow-through, which makes our lives easier and keeps our classes fresh and exciting to teach. She's a gem," said Peabody.