Lindenwood University-Belleville's Department of Theatre is proud to announce its sixth season of plays.

In the fall, the department will present Tennessee Williams' classic American play, A Streetcar Named Desire, Oct. 5-8. Streetcar tells the story of Blanche DuBois and her doomed attempt at living out a fantasy life in an all-too-real 1950s New Orleans.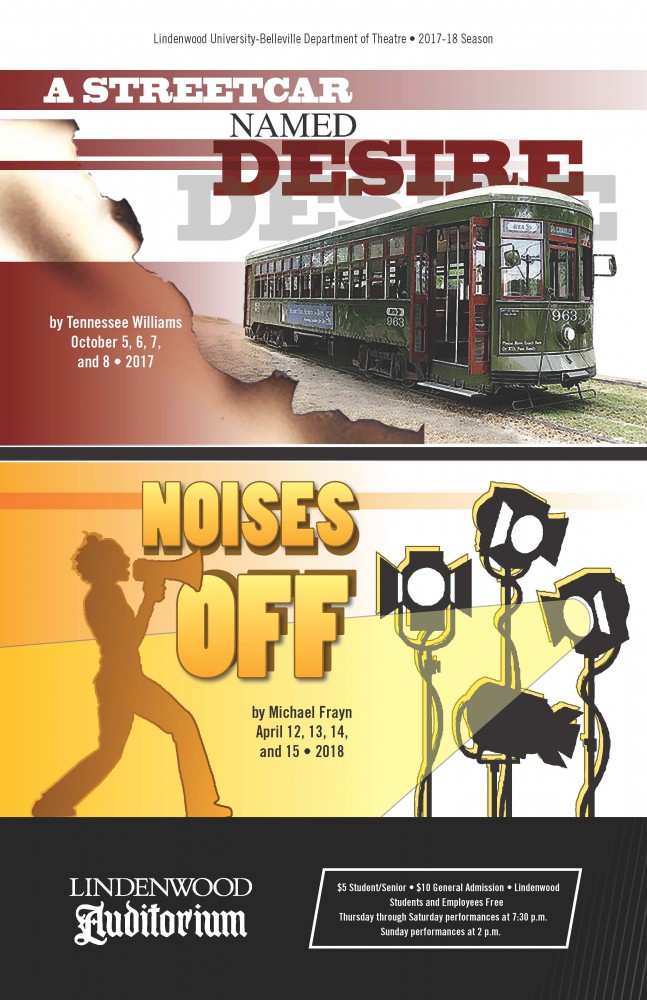 In the spring, the department will present Michael Frayn's hilarious, fast-paced farce Noises Off from April 12-15. Join the calamity as the cast and crew of the fictitious Nothing On try to perform their play in some ridiculous circumstances.

"Both of these productions have had iconic films made of them, and we are proud to present them to the Belleville community this year," said Assistant Professor of Theatre Nick Moramarco.

"We've selected a season that we believe has something to satisfy the dramatic taste and high comedy on the stage, and hope community members will come out for these great shows," said Theatre Professor Marsha Parker.

All Thursday through Saturday show times are at 7:30 p.m., with Sunday's matinees at 2 p.m. Tickets cost $10 for general admission and $5 for students and seniors. Lindenwood students and employees are free. Shows will be performed in the Lindenwood Auditorium, 2600 W. Main St., Belleville. For more information, call Moramarco at 618-239-6226.