The Lindenwood University Theatre Department will present the classic Russian story of love and betrayal, Anna Karenina, at 7:30 p.m. April 10-12 and at 2 p.m., on April 13 at the university's Emerson Black Box Theater.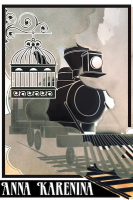 Tickets are $10 for general admission and are available at the Lindenwood University Box Office, 636-949-4433, and online at www.lindenwood.edu/center. The box office and the Emerson Theater are located in the J. Scheidegger Center for the Arts, at 2300 West Clay St. in St. Charles, Mo.
Based on the famed novel by Leo Tolstoy, the play revolves around Anna Karenina, a married woman who falls in love with Count Vronsky. When her husband refuses a divorce, the lovers run off together to Venice to escape the disapproval of Russian high society, but Vronsky is lured back to the old country by an offer of reinstatement in the military, and Anna must follow. There, the tragic affair begins to unravel, in tandem with Anna's frail psyche.
Tolstoy's novel was published in the 1870s and has been adapted for the stage and screen numerous times. The cast features Ali Pinkerton as Anna Karenina, Daniel Suckup as Levin, and Shelby Lewis as Princess Betsy.
"Come ride the sad, slow train with Anna Karenina, through the dying age of Aristocratic Russia," said Director Serena McCarthy. "This spellbinding ensemble production is filled with rich characters and stunning visuals that will draw you into the tragic world of Anna Karenina."
For more information on the Lindenwood University Theatre Department, contact Department Chair Emily Jones at 636-949-4838 or ejones@lindenwood.edu.