The Lindenwood University Theatre Department will present the Arthur Miller's tragic tale "A View from the Bridge" at 7:30 p.m. on Feb. 7-9 in Lindenwood University's Emerson Black Box Theater.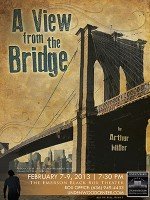 Tickets are available for $10 at the Lindenwood Box Office, (636) 949-4433, or online at www.lindenwood.edu/center. The box office and the Emerson Black Box Theater are located in Lindenwood's J. Scheidegger Center for the Arts, at 2300 West Clay St., just west of First Capitol Drive in St. Charles.
Set in post-war McCarthy-era 1950s in the shadow of the Brooklyn Bridge, the play tells the story of upstanding dock worker Eddie Carbone, who has taken in two of his wife's relatives, illegal immigrants from Italy, to live with him, his wife, and his teenage niece, whom he has raised and whom he loves, he thinks, like a daughter.
His niece falls for one of the immigrants, which awakens his feelings for her and threatens to tear his family and his world apart. Judgment, respect, sexual dynamics, hopes, and fears are at the core of this intensely absorbing drama, a tragedy in the traditional form and a modern classic.
The cast includes Alonso Yabar as Eddie, along with Daniel Sukup, Shane Bosillo, John Fisher, Rachel Hockensmith, Julie Range-Colvin, Joe Bayne, Ryan Ethridge, Jaiymz Hawkins, Cole Figus, Nick Marquart, Ashley Ritter, Sam Rudloff, and Dwayne Ferguson.
The play is directed by Peter Banholzer, and the stage manager is Lindsey Conklin. Scenic design is by Jim Koehnle, and light, sound, and costume design are by Tim Poertner, Jaiymz Hawkins, and Phil Gill, respectively.
For more information about the production, contact the Lindenwood Box Office at 636-949-4433 or Emily Jones, chair of the Lindenwood University Theatre Department, at ejones@lindenwood.edu or 636-949-4838.