Lindenwood University's Recreation Department will host the third annual Kilometers for Chris event at 9 a.m. on April 27, 2014, on the university's St. Charles campus.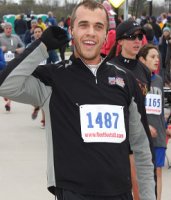 This year's event is a team-building challenge. Teams comprised of four to five members will compete in a fun atmosphere overcoming obstacles as a team. At each kilometer, there will be a different challenge to complete. All of the challenges are accessible for anyone but will require teamwork. There will also be a one-mile fun run for those who wish to support the cause, or do not want to compete in the team challenge.
The event will take place on the Lindenwood University-St. Charles Campus, starting in the Heritage Campus at Roemer Hall and running through the entire campus, where it will end in Hunter Stadium. Both runs will begin at 9:00 a.m.
The Kilometers for Chris event was started in 2012 in support of Chris Lister, an alumnus of Lindenwood University who was struck by a car and seriously injured while participating in a 10K run. All proceeds are donated to support Lister in his recovery.
Participants can register online at www.lindenwood.edu/kilometersforchris. Pre-registration ends on April 13, 2014. Prices increase after pre-registration. Sponsorships and volunteers are needed.
For more information or to support Chris's recovery, please email kilometersforchris@lindenwood.edu or contact the Recreation Department at 636-255-2213.