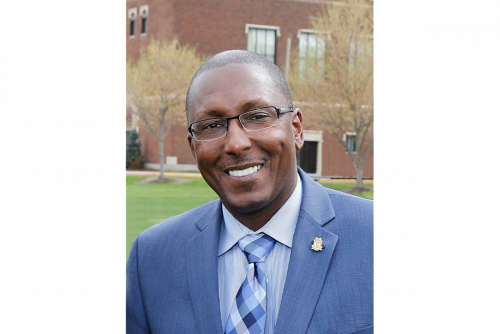 The Illinois Association of Chiefs of Police recently published research conducted by Lindenwood University-Belleville Assistant Professor of Criminal Justice Dr. Thomas Trice along with three of his students, Naomi-Denise Oudshoorn, Leiden, Netherlands; Peyton Rose, Manteca, Calif.; and Courtney Smith, Breese, Ill. Their research, Law Enforcement Leadership Through the Eyes of a Citizen: Why Real Leadership, Cultural Competency and Empathy Matter analyzed how police officers can better connect to communities through three key factors – leadership, cultural competency, and empathy.
"My students get to learn first-hand how much time and energy goes into conducting research and how that forms knowledge surrounding the issues we discuss in class," said Trice, who plans to involve his strongest undergraduate students in his research.
In 2014, Trice began looking at ways to improve the relationship between law enforcement agencies and the communities they serve. Since that time, he has incorporated his students into this work to enhance their academic career and to connect them to the professional world of criminal justice.
"These students gained honors credits, got a taste of real-world research, and are helping to make a difference in their field even as undergraduates," said Trice.
Over the course of six months, Trice and his student researchers reviewed more than 300 videos captured of law enforcement and discussed them with more than 800 law enforcement officers throughout the United States. At the conclusion of the data collection, the research team determined that the public would be more trusting of police agencies if leadership, cultural competency, and empathy were incorporated into the policies. The research also provides a framework that law enforcement agencies can use to evaluate their own policies that may impact their relationship with the community.
Trice earned a doctorate of management in organizational behavior, organizational change, and leadership and a master's degree in leadership management and human recourses and development, both from Webster University. He earned a bachelor's degree in criminal justice and administration of justice and pre-law from Southern Illinois University-Carbondale. Trice served on the police force for nearly 23 years on the local, state, and federal levels. He also is the CEO of TRIKEN Consulting, a company that conducts background investigation for more than 20 law enforcement agencies and conducts national evidence-based training for private and public sectors. He is also a nationally certified polygraph technician. Trice's work was also featured in the Texas Lawmen Association Journal, the Oklahoma State Police Journal, and the Illinois Sheriff Association.