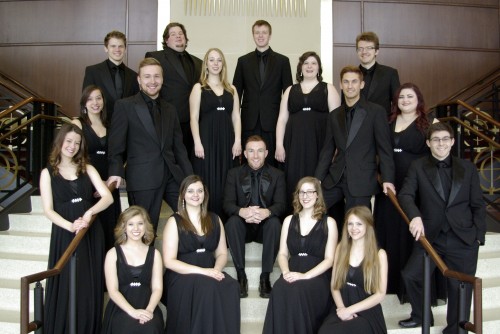 Since its humble beginning in 2002, Voices Only has become THE sought-after entertainment at high-profile Lindenwood events. So, when Voices Only alumni gather for a reunion concert at the Lindenwood Cultural Center Auditorium on Homecoming Weekend, the seats will be a hot commodity.
Voices Only has distinguished itself as one of the premier A Capella vocal groups in Missouri, with an average of 20 performances a year. The group has always been proud of its versatility, and its singers must demonstrate a diverse repertoire from the opening tryout each fall semester.
"We are one of the few college-level choirs that sing a variety of musical styles to reach out to all audiences," said Professor Pam Grooms, the department chair of music and the 10-year director of Voices Only.
Grooms said she was excited for the reunion concert, and her group is already planning music for the event.
"We're going to see a lot of talented alumni," she said. "Voices Only is a big family that spends a lot of time together while they are here at Lindenwood. They also become very engaged alumni and come back to events often."
Voices Only was started in 2002 by Dr. Jim Henry, a former Lindenwood faculty member. He and Grooms both took Voices Only to the invitation-only Missouri Music Educators Association conference for performances, and Voices Only has toured internationally in Germany, Holland, and Sweden (2003) with the acclaimed St. Louis barbershop chorus Ambassadors of Harmony.
In addition to the reunion concert Saturday night, Voices Only alumni will sing the national anthem at the Homecoming football game after the current group sings the Lindenwood Alma Mater.