The Lindenwood University-Belleville women's ice hockey team has been credited with an important assist after volunteering to help make its hometown's Walk to End Alzheimer's a success.
Players and coaches pitched in from the start to the finish of the event to help the fundraiser exceed its goals.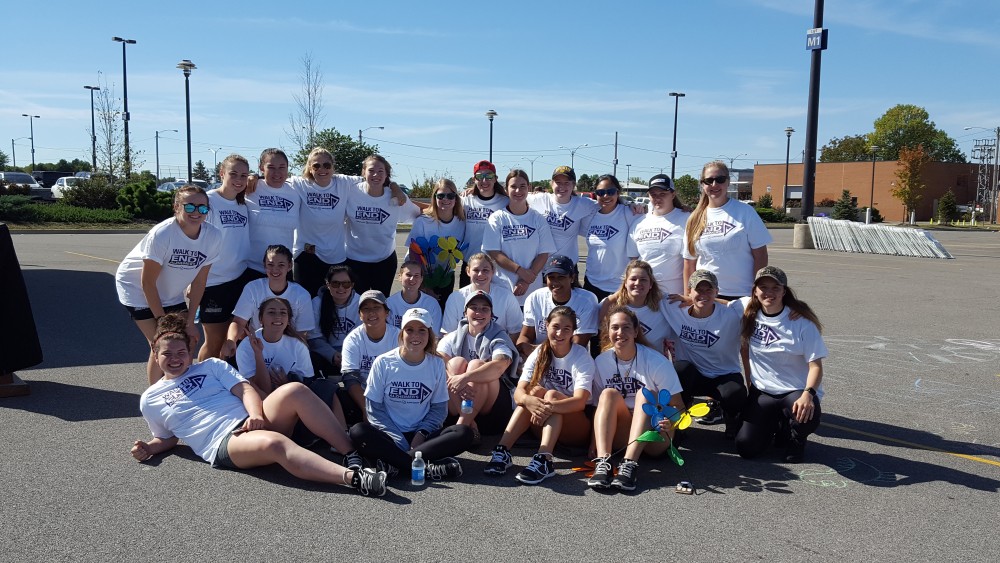 "The girls were amazing," event co-chair Amy Kempfer said in an email to Lindenwood Belleville Campus President Brett Barger. "They were there at 6:30 am and the last ones to leave after tear down. All were extremely helpful and, because of them, the event ran smoothly. We don't always get to hear about all the great things going on in our community. I wanted to reach out to let you know I was very impressed."
Barger noted that he's pleased with the hockey players' efforts but not surprised to see them spend their time to help others.
"I have gotten to know many of these wonderful student-athletes, and it's such a joy to know that our community is getting to know them as well through their service," said Barger.
The Belleville Walk to End Alzheimer's surpassed its target of raising $80,000 to donate toward the search for a cure of the deadly degenerative brain disease, which is the most common cause of dementia. The event raised more than $88,325 with 699 people and 83 teams signed up to participate.
Women's Hockey Coach Katherine Hannah said she was as proud of her team's contribution to the community as she is of its dedication on the ice.
"We have an outstanding group of young women and want to be a part of making our community stronger," said Hannah.
All funds raised through Walk to End Alzheimer's further the care, support, and research efforts of the Alzheimer's Association. More than 5 million Americans currently suffer from Alzheimer's, which is the sixth-leading cause of death in the United States. A new case of the degenerative brain disease is diagnosed every 66 seconds. Alzheimer's kills more people than breast cancer and prostate cancer, combined, and is the only disease on the top 10 list of killers that cannot be prevented, cured, or even slowed, according to the Alzheimer's Association.