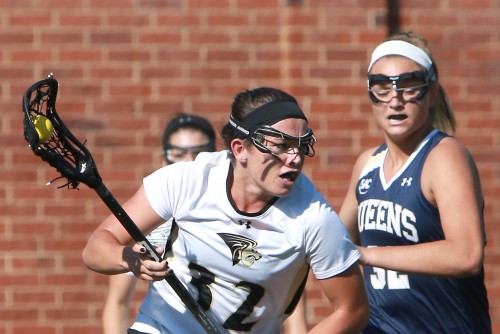 For the second straight season, Morgan Judd of the Lindenwood women's lacrosse team was selected as the winner of the Elite 90 award. Judd received the award as part of the NCAA Championship Banquet, which was held at the Kehr Union Building on the campus of Bloomsburg University in Bloomsburg, Pa.
The Elite 90 award is presented to the student-athlete with the highest cumulative grade-point average competing at the finals site for each of the NCAA's 90 championships. Each institution that has at least one student-athlete qualify for the finals round/site is eligible to nominate a student-athlete to win the award for that championship.
Earlier this season, the South Jordan, Utah native was named to the RMAC honor roll. Last season Judd earned the Elite 90 Award, RMAC Summit Award, RMAC Academic Player of the Year, and was a first-team all-academic selection.
On the field, the senior midfielder has totaled 38 goals and 11 assists this season, and was tabbed as a second-team all-RMAC performer. Judd is currently tied for second place in program history with 102 career goals scored.