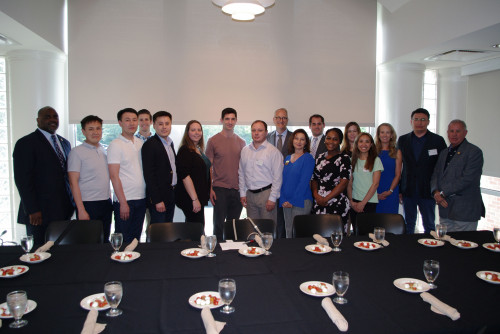 Five World Affairs Council (WAC) delegates from Kazakhstan, along with a facilitator and interpreter, recently visited Lindenwood University to hear "from professionals in the legal and criminal justice system to learn new approaches relating to the penal system." As part of the WAC Open World program, the delegates also learned about prison staffing and management, reducing the prison population, penal legislation, and early-release opportunities.
Lindenwood professors, Dr. Saint Rice (School of Accelerated Degree Programs, Criminal Justice), Dr. Jeanie Thies (School of Humanities, Political Science, coordinator of the Hammond Institute Criminal Justice Reform Initiative), and Dr. Joe Zlatic (Division of Social and Behavioral Sciences, Criminal Justice, Lindenwood Belleville) presented an overview of American corrections to the delegates. The delegates shared information about recent reforms in the prison systems of Kazakhstan, emphasizing re-entry plans for offenders leaving the penal system.
After the presentations, the groups held a question-and-answer session and discussed the differences and similarities in the Kazakhstani and American penal systems.
"The meeting was informative and enlightened," said Thies. "We learned in many ways their corrections system is more progressive than that of the U.S."
The Hammond Institute sponsored a luncheon for the delegates, and Lindenwood professor Dr. Shelly Daly served as a host family for representatives of the WAC.
The visit was related to the Hammond Institute's Criminal Justice Reform Institute.