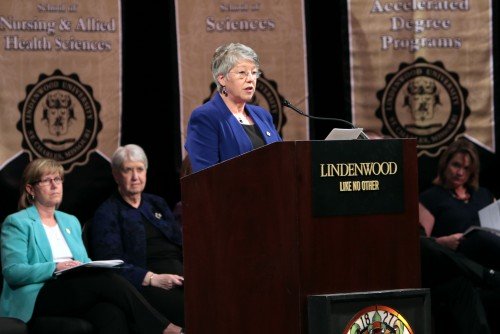 Lindenwood University named Jennifer Johnson the Easton Award winner and Adam Peth the Sibley Award winner at the 2016 Honors Convocation on April 24 in the J. Scheidegger Center for the Arts.
The awards, named in honor of Lindenwood founders Mary Easton Sibley and George C. Sibley, are presented to one female senior and one male senior, respectively, who exemplify the ideals of scholarship, leadership, loyalty, and service to the university and the community. The awards are jointly sponsored by the Lindenwood Student Government Association and the Alumni Association.
"This year's recipients are examples to which all Lindenwood students can aspire," said Dr. Marilyn Abbott, provost and vice president for academic affairs.
After an address by Dr. Michael Shonrock, Lindenwood University System President, Abbott presented the awards.
In addition to the Easton and Sibley awards, the university presented numerous individual academic achievement awards, and each academic school presented individual awards for academic success. Some of these honors included lifelong learning awards, student leader awards, academic awards for both NCAA and Student Life Sports, and various awards for members of fraternities, sororities, and academic organizations. These awards were presented by numerous deans and faculty members.
Several groups of students, such as scholar athletes and members of various honor societies, were also recognized, including 70 members of the Honors College, the most ever in that group, said Mike Whaley, dean of the Honors College and the School of Humanities.
"We were pleased that parents got to take photos of their young scholars with Dr. Shonrock as they received their awards," said Whaley. "There were many smiling faces."