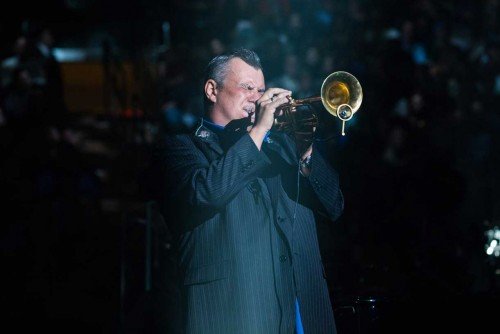 Lindenwood University and Warburton Music Products will present A Conversation with Carl Fischer, a tutorial intended for musicians of all instruments and all ages, at 7 p.m. April 20 in Room 2205 of the university's J. Scheidegger Center for the Arts. The event is free and open to the public.
Fischer, one of the most visible trumpet players performing today, has performed for more than a decade as a featured soloist and multi-instrumentalist playing trumpet, flugelhorn, trombone, and saxophone as a member of Billy Joel's band. He is also a band leader with two groups of his own: Organic Groove Ensemble and the larger Nouveau Big Band.
He will talk about multi-wind instrument chop maintenance, phrasing, endurance, versatility, "how to get the gigs," "how to keep the gigs," and how not to be "trumpet-typed" (stereotyped) in the constantly changing world of music.
Celebrated for his unique playing style, Fischer first picked up the trumpet at age 5, inspired by his father, a talented trumpet player himself. His professional career began 25 years ago when he was asked to join the Lincoln Center Jazz Orchestra, led by the acclaimed trumpet virtuoso Wynton Marsalis. He has also worked with Maynard Ferguson, Diana Ross, and the iconic jazz/rock horn band Blood, Sweat, and Tears.