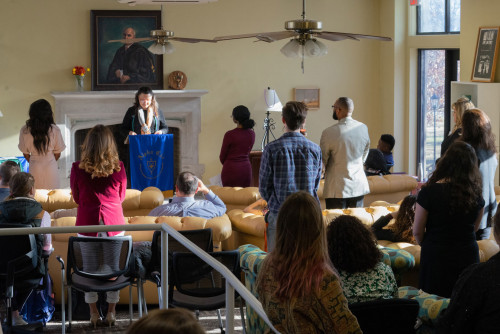 The Alpha Chi national honor society inducted 48 new members from Lindenwood University March 3 in the Piers Stewart Lounge in McCluer Hall.
Three of Lindenwood's new Alpha Chi members, Abigail Manis, Robert Fountaine-Holman, and Kaitlyn "Fred" Demien, are also traveling to the Alpha Chi convention in Albuquerque, N.M., on March 18.
"The Alpha Chi national office has recently recognized our chapter's web page as a best practice, and we hope to stay in the national spotlight with this amazing group of inductees, three of whom will be representing Lindenwood University at the national Alpha Chi convention in Albuquerque, March 18-22," said Kathi Vosevich, dean of the School of Humanities.
Alpha Chi membership is open by invitation to juniors, seniors, and graduate students who are in the top 10 percent of their class. Founded in 1922, the collegiate honor society aims to promote academic excellence and exemplary character among college students.
Fountaine-Holman will compete in a poetry competition for a $100 prize at the national convention.
"It has me excited because I love to perform and bring insight to themes of masculinity and fatherhood," Fountaine-Holman said. "I am a spoken word artist, so it is a chance to express my writings in a way they weren't necessarily intended to (be experienced). When I wrote them, I had in mind they would always be on the page. No I get to bring my writings to life in front of an audience."
Founded in October 1999, Lindenwood's Alpha Chi chapter has inducted over 1,500 undergraduate and graduate students. Since January 2017, the Lindenwood chapter has inducted almost 400 undergraduate and graduate students. Alpha Chi's members are recognized at the annual Honors Convocation each spring.