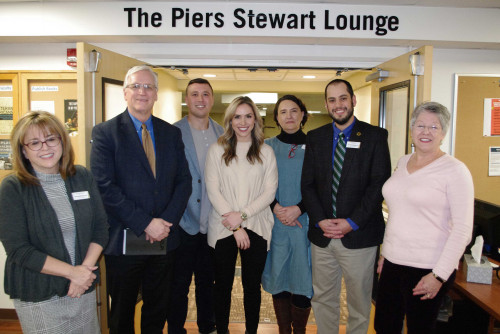 Chase and Kayla Piers Stewart visited the Lindenwood University campus Nov. 15, 2019, to take part in a dedication ceremony for the recently named Piers Stewart Lounge in McCluer Hall. The couple, who hold humanities degrees from Lindenwood, selected the lounge to honor the School of Humanities.
"Lindenwood University, and the humanities department in particular, helped shape us into the people and professionals we are today," Chase said, echoing Kayla's comments at the event. "We are forever grateful for the quality education we received at Lindenwood, as well as the personal growth that the university helped foster. We are excited to give back to Lindenwood in this way, and we hope this space fosters the type of intellectual curiosity and growth that we experienced during our time at Lindenwood."
Kayla, who holds a bachelor's degree in religion, is regional vice president of sales for Paycom. Chase, who holds a bachelor's degree in communications and religion, is an associate at G&G Law in Chicago. The couple, who met in middle school and married in 2013, live in Chicago.
Kayla and Chase donated $10,000 to name the lounge where collaboration and innovation among faculty, staff, and students can thrive. McCluer Hall serves as the office building for faculty in the schools of Humanities and Communications. In addition, the couple signed a memorandum of understanding for $25,000 to establish an endowed scholarship at Lindenwood.
"We are very grateful for their generosity and that they have chosen to maintain a connection with Lindenwood," said Kate O'Neal, assistant vice president for advancement and communications. "It is wonderful to see alumni like Kayla and Chase experiencing real success as a reward for their hard work as students."
Photo cutline: (from left) Dean of Humanities Kathi Vosevich, Lindenwood University President John R. Porter, Chase and Kayla Piers Stewart, Associate Dean of Humanities Justine Pas, Assistant Dean of Humanities Travis McMaken, and Provost and Vice President for Academic Affairs Marilyn Abbott.