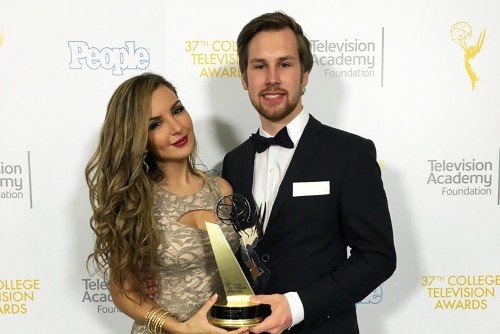 Damenz and his film won third place in the variety category during the 37th College Emmy Awards on May 25 at Los Angeles' Skirball Cultural Center. Accompanying Damenz to the ceremony were Damenz's girlfriend, Alejandra Soto, and friend Chris Odeniyi, both of whom are Lindenwood film students who worked on Infinite (Soto as assistant director and Odeniyi as cinematographer).
"Attending the ceremony was unreal," Damenz said. "We got to meet a lot of the other nominees from the prestigious film schools around the country, such as University of Southern California, Chapman University, and New York University. Being from Lindenwood felt like being the underdog, but I think it shows that these awards aren't limited to the top film schools."
Damenz's film, which was aided by numerous other Lindenwood film studies majors, is still making the rounds in the film festival circuit and appearing in various countries.
"We have screened Infinite at over 10 film festivals around the country, won more than 10 awards – of which two are nationally recognized prizes – recently had our first screening in Germany, and we will have our LA premiere at the prestigious Burbank International Film Festival, where we are nominated for Best Student Film," Damenz said. "We will have one more screening at the St. Louis International Film Festival later this year, too. So it has been absolutely amazing."
Damenz, who graduated in May 2016 with a Bachelor of Fine Arts in digital cinema arts and a Bachelor of Arts in advertising and public relations: corporate communications (along with a minor in chemistry), won six Lindy Awards for Infinite in March, including Best in Show.
"It still feels like a dream to me winning these awards and all of the positive feedback to Infinite," Damenz said. "To me, the most special thing is that when we were making the film, it was just a small, little school project. It was just me and my good friends and fellow film students Chris, Alejandra, Morgan Findlay, Yoshikazu Ysa, Spencer Elmore, and Luiz Costa Cruz (and non-LU actors Dan Irwin, Ted Joerding, and composer Alvin Zamudio). I hadn't even planned on submitting it to film festivals, but it really took off around spring this year, and now we are in the festival run until the end of the year, which is crazy!"
The capstone project is for fine arts majors in film, said Professor Peter Carlos, Damenz's former instructor.
"The project shows what they learned," Carlos said. Julius is a very talented filmmaker. He did something different, more artful, and he was successful."
Damenz said he would like to enter the film industry and become a successful filmmaker. Right now, he is in Hollywood working as an intern at the 20th Century Fox TV show Scream Queens. He works closely with cinematographer Joaquin Sedillo.
Damenz said he owes much to his short film and his Lindenwood professors.
"I attended my first film festival, won my first award, and went to Hollywood, all due to this film," Damenz said. "And I am glad I was also able to promote Lindenwood's film program. In the four years at Lindenwood, I was able to grow as a filmmaker and storyteller, and I don't think I would be where I am without this experience."
Much of Damenz's work, including a trailer for Infinite, can be found on his website, www.juliusdamenz.com.