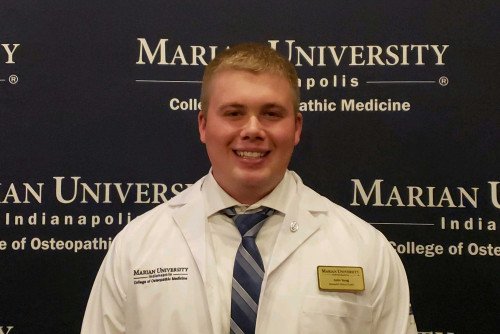 Collin Young didn't exactly anticipate the impact that tearing his ACL the summer before his freshman year of college would have on his collegiate career. As a baseball player from Mt. Vernon, Ill., who had accepted a scholarship to play at Lindenwood University-Belleville, he knew his athletic career would be affected and that most of his freshman year on the team would be dedicated to rehabilitation and strengthening his knee.
"From a young age, I was very interested in science, and always had a very strong interest in athletics too," explained Young. "But it wasn't until I was personally affected by that injury that I came to know the impact a doctor's care can have on a patient's outcome. That experience certainly influenced my career path, and it was through that I knew I wanted to study medicine."
Young pursued his goal of becoming a doctor by first earning his Bachelor of Science degree in biology, which he completed in 2017 from Lindenwood Belleville. During his time as an undergraduate student, he said he appreciated working directly with faculty members like his mentor Professor of Biology Dr. Paige Mettler-Cherry.
"My professors had real-world experience," said Young. "They weren't just in a classroom for their career, but have contacts, connections, and experience working outside of education, which I found to be very helpful when deciding what kind of career path I wanted to take."
Young also said that undergraduate students at Lindenwood Belleville are exposed to research and encouraged to pursue classes or programs that might enhance their educational career outside of their main program of student or academic division.
"Having the opportunity to conduct hands-on research as an undergraduate student in addition to the cross-curricular education I received at Lindenwood not only prepared me academically for medical school, but it also heightened my chances of being accepted to medical school in the first place," said Young. "Research opportunities are easy to find at Lindenwood Belleville and I was able to form personal relationships with most of the faculty. Those aspects are invaluable."
In addition to his biology major, Young tacked on a history minor which he said allowed him to submit a more well-rounded application for medical school. He took classes like "The History of Medicine and Science," and enjoyed working with History Professor Dr. Amy Gangloff, who assisted him in putting together an educational plan that would allow him to earn his minor, too.
Upon completing his bachelor's degree, Young was accepted to Marian University in Indianapolis, where he has been completing master's level courses, while conducting research until medical school begins this fall.
"I felt comfortable going into this year of research because of all the research I did as an undergraduate in Dr. Cherry's classes," said Young. "Everyone thinks you need to go to larger schools to get where you want to be, but you don't. In my graduate program, where there are about 65 of us, those of us from smaller schools absolutely perform as well as those from larger schools."
Young will be dedicated to medical school for the next four years, and then will be placed in a residency program, which he hopes will be located in a rural setting.
"Individuals in rural communities face challenges of access to medical care and sometimes even good medical practitioners," said Young. "I want to provide good medical care to individuals who need it most, and in many rural communities, residents often have to drive far, take time off work, and shuffle the responsibilities of life just to see a doctor. I ultimately want to be part of the solution to that problem."