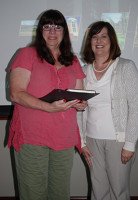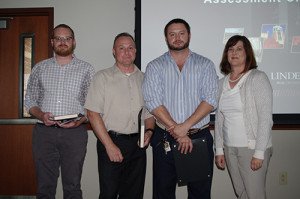 Each year, the Assessment Committee at Lindenwood University, through a nomination process, recognizes its faculty and staff who have made a significant contribution toward promoting continuous improvement through assessment with the presentation of an "Assessment Champion Award." On September 20, at the St. Charles all-staff meeting, four staff members received one of these awards for their assessment efforts during the 2017-18 academic year. The recipients were:
Janette Ralston, Director of Field and Clinical Experiences, School of Education
Peter Weitzel, Director of Institutional Research
Aaron Shilling, Research and Evaluation Associate, Institutional Research
Jeff Weinrich, Institutional Research Analyst
In addition to a certificate of recognition, each recipient received a copy of an assessment book by George Kuh and associates, titled Using Evidence of Student Learning to Improve Higher Education. Congratulations, Janette, Peter, Aaron, and Jeff! Thank you for all you do!