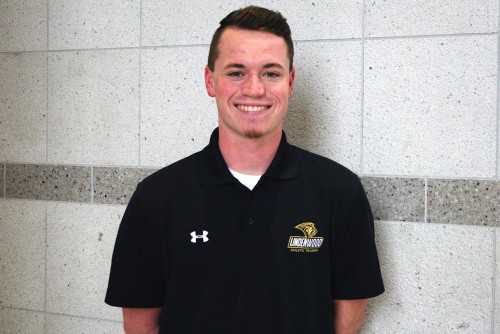 Lindenwood athletic training student Bryce Ensor has landed an internship with the National Aeronautics and Space Administration (NASA) this summer, one of only three of its kind available nationwide.
Ensor, a junior from Holliday, Mo., will be interning at Kennedy Space Center (KSC) in Titusville, Fla. from May 18 to Aug. 18. He will be working through NASA's RehabWorks program. According to the NASA RehabWorks website, the program was "established in 1997 to provide the highest quality physical medicine and musculoskeletal rehabilitation services to KSC's industrial athletes."
"This internship will be providing a lot of hands-on experience in the industrial setting of athletic training," Ensor said. "I will be able to focus on enhancing my skills in injury evaluation and continue developing skills in rehabilitation program design."
Ensor was searching online for athletic training in industrial setting positions when he discovered the internship opportunity. The internship is one of only three that were available with RehabWorks this summer.
"It was a position that sounded very intriguing," Ensor said. "I had to mail in an application, resume, cover letter, and three letters of recommendation before being considered for the position. Additionally, I had to take part in a phone interview before being selected for the internship opportunity."
Athletic Training Program Director Tom Godar saw something in Ensor from the beginning.
"I remember first meeting Bryce, as well as several other members of his class, and it was clear upon that first meeting that this group of students had tremendous potential," said Godar. "Bryce has been a leader among his peers, and in addition to his academic success, he consistently accrues well over the required clinical hours for his degree and he actively seeks opportunities to become more involved and further his own professional development."
For his part, Ensor has high praise for Lindenwood.
"The professors and staff at Lindenwood University have all been so helpful thus far in my education," Ensor said. "They have provided me with the skills and mindset to achieve my very best in the classroom and clinical setting. My program director, Tom Godar, has especially been influential and helpful throughout this application process."
Godar emphasized Ensor's qualifications and stressed the magnitude of the opportunity and the honor that the internship represents.
"Out of the hundreds of applications received for the internship at NASA, I have no doubt they made the right decision to offer Bryce one of the three positions," said Godar. "This is an incredible opportunity for Bryce and a testament to the opportunities that exist for our high-achieving athletic training students."