"Life is a banquet and most poor suckers are starving to death!"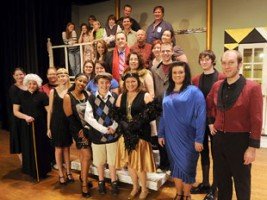 Rosalind Russell, as the unforgettable Mame Dennis, first uttered this motto in the 1956 play "Auntie Mame" by Jerome Lawrence and Robert E. Lee, then starred in the beloved 1958 movie, both based on Patrick Dennis' 1955 book about his eccentric Bohemian aunt. In 1966, the playwrights teamed up with Jerry Herman for the Tony-winning musical that cemented Angela Lansbury and Bea Arthur as Broadway legends and ran for 1,508 performances.
Today, the lively musical comedy "Mame" lives on in community theater, for the Brass Rail Players will present eight performances Feb. 17-20 and 24-27 at Lindenwood University's Belleville Auditorium, 2600 W. Main St., Belleville. The Thursday through Saturday show are at 7:30 p.m. and the Sunday matinees are at 2 p.m.
Spanning several eras, from the Roaring Twenties through the Great Depression and World War II, "Mame" tells the fact-based story of the original diva who becomes guardian to her 10-year-old nephew.
Filled with colorful characters, vintage costumes, and hummable tunes, "Mame" is as fresh and fun today as during its original run. Songs include "Open a New Window," "It's Today," "If He Walked into My Life," "That's How Young I Feel," "We Need a Little Christmas" and "My Best Girl."
Part of the Brass Rail Players' inaugural season, "Mame" features some of the area's most talented performers. Janice Codispoti of O'Fallon, a veteran of professional and community theater who sings with the Masterworks Chorale, is the title character.
The principal cast also includes: Bryce Beliveau of Freeburg as young Patrick, John Schnable of O'Fallon as older Patrick, Danielle Jung of O'Fallon as Vera Charles, Lindsay Jorns of Belleville as Agnes Gooch, Mark Tullis of Columbia as Beauregard Burnside, and Jeff Clinebell of Waterloo as Ito.
Other cast and chorus include: Lauren Keck of Collinsville as Pegeen, Robert Hopwood of Belleville as Babcock, Matt Dossett of Waterloo as Lindsey, Warren Frank of Red Bud as Mr. Upson, Jaime Ingle of Maryville as Mrs. Upson, Lexi Krekorian of Waterloo as Gloria Upson, Delisa Richardson of St. Louis, Dan Schmidt of Columbia, Claire Pees of Freeburg, Melinda Driscoll of St. Louis, Mallory Douglas of Freeburg, Melissa McKean of Belleville, Clayton Neuner, Rachel Isner, Susan and Jessica Anderson of Red Bud and Jennifer, Libby, Chris, and Emily Ceradsky of Columbia.
The production is directed by Stacey Tunnicliff of St. Louis, with Alison Driscoll of St. Louis assistant director, Maryann Hopwood of Belleville music director, Ralph Schlesinger of Belleville pit band director, Susan Hubert-Jeep of St. Louis choreographer with assist by Kyla Miller of New Athens, and Mark Feazel of Millstadt the tech director. Cece Driscoll of St. Louis is the costume designer and Christina DeBoer of Belleville is the stage manager.
Tickets are $15 for adults, with $12 price for students, seniors, military and group discounts. The box office opens an hour before showtime, and tickets can be purchased by cash or check. Tickets may also be reserved by calling (618) 767-6016.
For more information, visit www.brassrailplayers.org, Facebook page, or contact Lynn Venhaus, executive director, at (618)917-8175.