The 22nd Annual Lou Brock Golf Classic will be held on Monday, Sept. 29, at Whitmoor Country Club, located at 1100 Whitmoor Drive, St. Charles, Mo. 63304. The tournament is one of St. Louis' most exclusive, with all proceeds benefiting Lindenwood University athletics and the Lou Brock Scholarship Fund; registration is currently being accepted.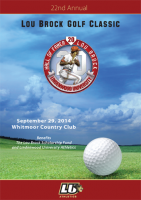 The event will include registration and lunch at 11 a.m., a "Chip off the Ol' Brock" contest at noon, and a shotgun start at 1:00 p.m. A social hour will take place at 6 p.m., and an awards dinner is scheduled to begin at 6:30 p.m.
Tournament polo shirts and other souvenirs will be given to each player, including a framed, autographed photo with Lou Brock. The cost to participate in the golf scramble is $1,200 per four-person team or $350 per individual.
Ameren, World Wide Technology, and Rex Sinquefield are the top sponsors for the 2014 tournament. Other key sponsors are KMOX radio, FOX Sports, Adidas, Pepsi, and the St Louis Cardinals. Longtime supporter Tom Ackerman, KMOX sports information director, is the designated emcee for the dinner following the tournament.
Through the generosity of the sponsors and donors, the tournament has raised over half a million dollars for the Lindenwood University athletics programs in just four years.
To register for the tournament or to learn more about sponsorship opportunities, contact Jane Baum, Lindenwood's athletics development director, at 636-949-4427 or e-mail jbaum@lindenwood.edu.