Students attending the seventh-annual edition of Camp Lynx Tales at Lindenwood University-Belleville not only learned a lot about reading and writing.
They learned a lot of what it takes to make a good superhero, too.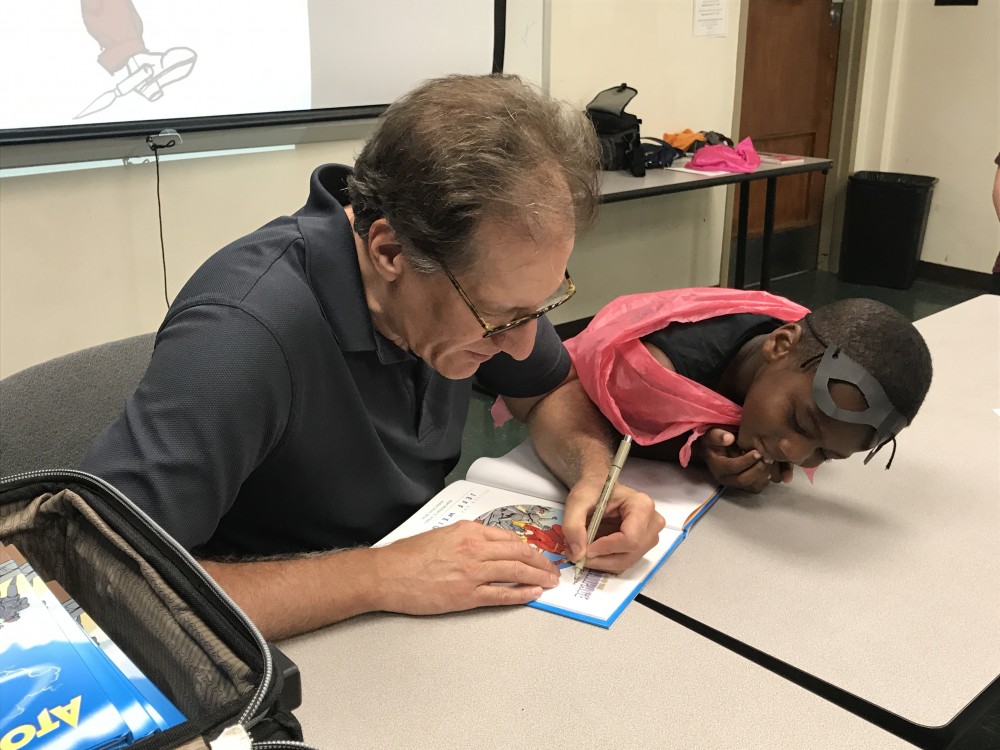 A group of about 20 first through fourth graders attending the summer reading camp had the unique opportunity to meet with comic book author and artist Jeff Weigel, creator of The Sphinx, Atomic Ace, Dragon Girl, and Quantum Mechanics comics and graphic novels.
During the hour-long session, Weigel, a Belleville native, talked about his books and described the process of creating new characters and accompanying story lines, answering dozens of questions about his characters and their adventures. Then, he displayed a cartoon image of a teen boy on the projection screen. Using an electronic tablet, Weigel turned the average boy into his latest superhero creation, complete with an elaborate costume and an array of superhero tools, based on the suggestions of the children in the room.
"I'm impressed with how he's digging for critical thinking, not just taking the first response he gets from the children," Camp Lynx Tales Director Dr. Stephanie Yearian said about the students' interaction with Weigel. "They're really doing a lot of brainstorming and applying what they've learned."
In the end, the character the students decided to name "Scholastic Super Inventor" was cast as a young man whose genius inventor parents were kidnapped by a villain who planned to force them to use their talents to do his bidding. The boy, was armed with a fancy tool belt, rocket-powered work boots, X-ray goggles and bulletproof chest armor to help him carry out his mission.
One student was impressed with how much Weigel knows about superheroes and their capabilities.
"Do you have a super power?" the girl asked.
"Yes," Weigel replied. "I can draw."
The young lady told the artist that she must be a superhero, too, because she also can draw.
"Because we have the same superpower, that probably means we're from the same planet," Weigel said with a wink and a smile.
Yearian said Camp Lynx Tales participants work one-on-one with educators on reading in the first part of the morning and honing their writing skills by filling the pages of a journal or by writing letters to their families about their camp experiences. Later in the day, they meet for group activities to enhance their reading, including the chance to talk with area authors.
The students left their session with Weigel with an autographed copy of one of his Atomic Ace comic books and a photo with the author to accompany their memories of the day.
The Camp Lynx Tales summer reading camp was held June 5-23 on the Lindenwood Belleville campus.
In the photo, comic book artist and author Jeff Weigel, of Belleville, autographs a copy of his comic "Atomic Ace" for Keowan Salmond, who recently graduated from Kindergarten at Abraham Lincoln School in Belleville.