The Center for Racial Harmony honored Lindenwood University-Belleville on Oct. 19 with the ELITE Award for making significant contributions to the community.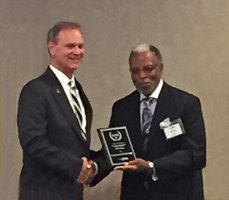 ELITE stands for Extraordinary Leaders Impacting Today's Environment, and the award is given to citizens and organizations in the St. Louis Metropolitan Area that demonstrate a commitment to improving their community.
In addition to LU-Belleville, the ELITE award was also awarded to eight other organizations, including Ameren Illinois, Eckerts Orchards, and Walmart Corporation.
"Lindenwood University-Belleville was honored to be recognized by the Center for Racial Harmony," said Jerry Bladdick, Belleville Campus President. "With students and faculty from more than 40 different countries, we take great pride in the diversity and cultural appreciation that exists on our campus. Encouraging community volunteerism and involvement is very important to us."
The Center for Racial Harmony works in partnership with community leaders, area schools, churches, and neighborhood associations in an effort to offer services that promote understanding, cooperation, and communication among all races and ethnic groups.