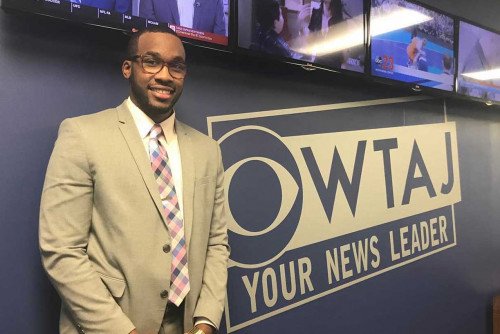 Devin Jackson came to Lindenwood University-Belleville on a football scholarship, and after being introduced to the Communications Department and all the new equipment it had to offer, he fell in love with the department and the school and began to learn what his calling in life would be. Fast forward a few years and Jackson has landed a job as a digital multimedia journalist and content producer for WTAJ News in Altoona, Pa., and credits his Lindenwood Belleville professors for preparing him for life post-graduation.
"The broadcast communications crew was fairly small so you got to know people on a personal level," said Jackson.
Jackson graduated in 3 1/2 years, and during that time, he was heavily involved in campus activities. From play-by-play broadcasting for the basketball teams to being part of the first LBTV News show and helping to bring Greek life to the school as a Phi Beta Sigma charter member, Jackson became well-known around campus. But, he notes he had a lot of influencers and professors who helped him along the way.
"Chris Sabo and Tom Calhoun definitely helped prepare me for post graduate life," said Jackson. "Professor Sabo was one of the pioneers for LBTV News and taught me the ins and outs of the news business. Tom Calhoun gave me my first exposure to play-by-play broadcasting. He taught me professionalism, how to approach coaches and players, and how to ask more than yes and no questions. Without those two, I don't know where I'd be today."
Over his time at Lindenwood, Jackson developed his skills and honed his interest for a career path he's passionate about. In his role with WTAJ News, Jackson will be shooting video, doing news reports for social media, and working the company's website.
"This is a brand new position at my station, as news is pushing a digital wave now," said Jackson.
Jackson graduated in 2017 with a degree in mass communications with an emphasis in broadcasting and has been working freelance for USA Swimming as a production assistant, and did sports reporting for a magazine in Alabama called Touchdown Alabama Magazine.
"Don't give up on your dream," said Jackson. "Getting into news specifically took me over a year, and I turned down a few offers, because I didn't want to make a rushed decision. You've put in the necessary work, so the right offer will come. I had to be patient and learn that."
Jackson mentioned that his time spent at Lindenwood Belleville has shaped him to who he is today, and he is grateful for the education he received at the university.
"The friendships I made and brotherhood I gained are going to last a lifetime," said Jackson.